Refining
There are many things to consider when choosing a precious metals refiner: trustworthiness, fees and charges, time to settlement, terms of return, etc. At San Diego Refining, we have established a highly competitive and respectable reputation as one of the most efficient and cost-effective refineries in the western United States.
First and foremost, we are happy to invite both potential and returning customers to tour our facilities, and to witness the processing and sampling of their material at any time. We like what we do, and we are usually pretty excited to show off our facilities.
All of our charges are wholly transparent, based on a graduated percentage of precious metals refined, with no hidden price per troy ounce fees or complicated lot or assay charges. Please call 760-741-6535 or e-mail to refinery@sandiegorefining.com us for a schedule of refining charges.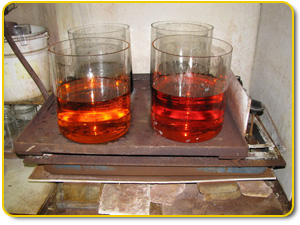 Our time to settlement on most lots is generally two to three days, and can be taken in a check, precious metals (Products page), fabricated product, bar, coin, or any combination thereof. Price per Troy Ounce is based on New York spot at the time of settlement, unless otherwise specified. In most cases, we also offer a metal and cash pool free of charge.
We are fully outfitted to refine a very broad range of precious metal-bearing material, including:
karat gold scrap
dental scrap
platinum and palladium scrap
bench filings
buffing dust
floor sweeps
gold fill and plated material
gold and platinum-bearing ceramics
gold and silver-bearing plating material
sterling silver scrap, including flatware and jewelry
high and low-grade electronic scrap
circuit boards, contacts and pins, CPUs
gold and platinum-plated aircraft parts
silver, gold, platinum and palladium paste
gold and silver flake
silver film
crucibles
miscellaneous precious metal-bearing material - just call us!