About Us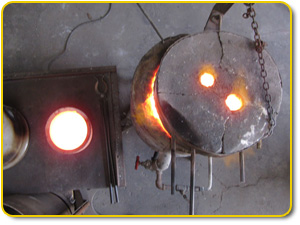 Family owned and operated for more than 30 years, San Diego Refining Company has a long and reputable history of serving Southern California jewelers, scrap dealers, dental manufacturers, and electronics firms.
Opening its doors in 1979, San Diego Refining quickly found itself thrust into the frenzy of the late 70s and early 80s precious metals rush, driven by inflation and the now infamous Hunt brothers attempt to corner the silver market. It seemed then that everyone with a checkbook and a pulse was buying gold and silver off of the street, oftentimes at pennies on the dollar.
It wasn't long before the Hunts were arrested, inflation was reigned in, and the prices of precious metals fell sharply. Many of the speculators who had been buying and flipping gold and silver simply disappeared, off to greener pastures in real estate, venture capitalism, or the buying and selling of credit default swaps. For the next 25 or so years gold hovered between $250 and $400 per troy ounce, and silver bottomed out near $3.00/t.o.
Through all of this, San Diego Refining remained committed to establishing and building relationships with both a local and national customer base. From small mom-and-pop jewelry stores to major manufacturing jewelers, from those in the dental industry to large plating and electronics firms, we have consistently sought to provide timely, reliable and honest customer service and returns. We believe that the most important aspect in choosing a refiner is finding someone whom you can work with and trust.
With more than 60 years of combined experience in the reclamation of precious metals, we pride ourselves on being a full service refinery, as we handle a variety of different materials (refining page) and offer a wide range of products (product page). There is an art in the science of refining and alloying precious metals, a skill and dedication that has been passed down at San Diego Refining from one generation to the next. We hope that you will consider us in the future for all of your refining needs.
San Diego Refining is AML and Patriot Act Compliant.